CCS Makes the 2022 Inc. 5000 List!
Story by CCS Editor / September 2, 2022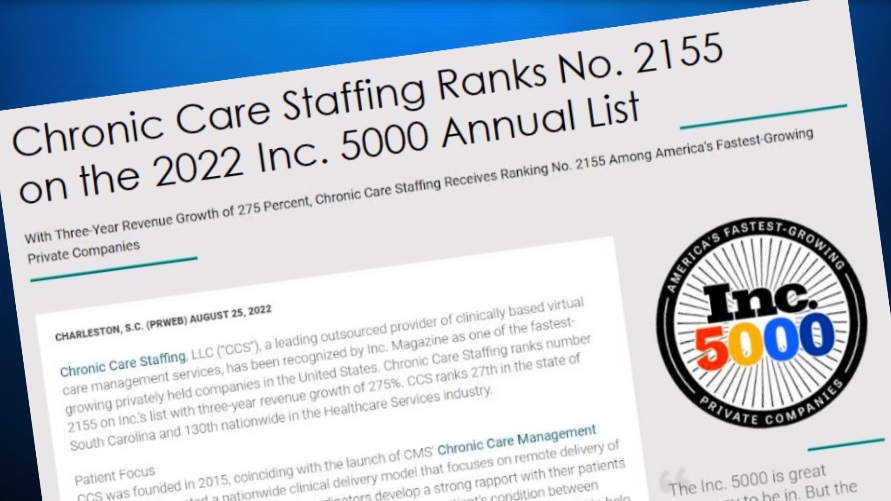 "CCS being recognized for outstanding growth is gratifying, and the Inc. 5000 list is certainly great company to be in. But the goal of growth was always secondary to our mission, which is to provide a much-needed service to the patient and the provider, and to do it better than anybody else. We have done that, we will continue to do that, and growth has been our reward."

Cas Danielowski, CEO, Chronic Care Staffing
This was the quote that highlighted a recent press release marking Chronic Care Staffing's inclusion on the 2022 Inc. 5000 list of exceptional-growth companies. In fact, CCS earned spot number 2,155 out of 5,000, with a growth rate of 275% over the past three years.
We invite you to view the PDF of the press release below to read all about our inclusion iInc. 5000 list. As the above quote explains, our exceptional growth was the reward for providing a valuable service to our clients and doing it better than anybody else. We would like the opportunity to prove it to your health system or practice. If you are in need of Chronic Care Management, Annual Wellness Visits, Transitional Care Management, Virtual Clinical Staff Augmentation, or our other services, please contact us! And if you are a clinician, such as an LPN, CMA, or RMA, who is looking for your next opportunity in a virtual environment with a healthy work-life balance, we would love to hear from you!