A Salute to National Nurses Week
Story by CCS Editor / May 4, 2022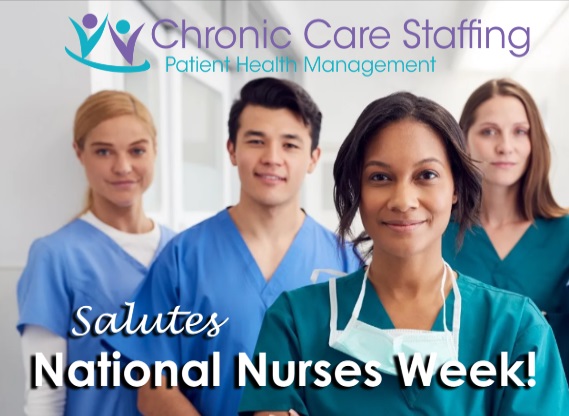 Chronic Care Staffing ("CCS") celebrates National Nurses Week 2022! This occasion offers us all an opportunity to say thanks and to recognize the sacrifices and contributions of America's nearly three million nurses. The Week, sponsored and promoted by the American Nurses Association, kicks off on May 6th with National Nurses Day and concludes on May 12th, the birthdate of revered nursing pioneer Florence Nightingale.
"From assisting with life-threatening ER crises to delivering babies and caring for the elderly in their last moments, nurses perform some of the most difficult and heartbreaking tasks in the medical world. As workers who perform the most essential healthcare tasks, nurses serve as the first point of contact for most patients." National Today: Focus on Nursing
Nurses are a Vital Part of the CCS Team
At Chronic Care Staffing, our team of highly qualified nurses form the backbone of our industry-leading Virtual Care Management programs. Trained, professional Care Coordinators work from home providing Chronic Care Management ("CCM") services to chronically ill patients. Monthly patient monitoring has been proven to reduce ER visits and hospitalizations while keeping providers up to date on patient conditions between office visits.
Our Care Coordinators commend CCS for the Company's "focus on patient care and outcomes," "family atmosphere," "flexible and accommodating schedules," and "work-life balance." One team member sums it up this way: "I take pride in working alongside these dedicated and passionate professionals who work every day to improve patient outcomes and support clients in reaching their care delivery goals. It's an honor and privilege to be a part of such an awesome team!"
Thanks to Our Nurses and Care Coordinators
So, let's remember to thank a nurse every chance we get – but especially during National Nurses Week! And if you're a nurse, CMA or RMA looking to make a difference in patients' lives, while enjoying a superior work-life balance, we encourage you to visit Chronic Care Staffing online!