CCS Celebrates National Health Center Week 2023!
Story by CCS Editor / August 7, 2023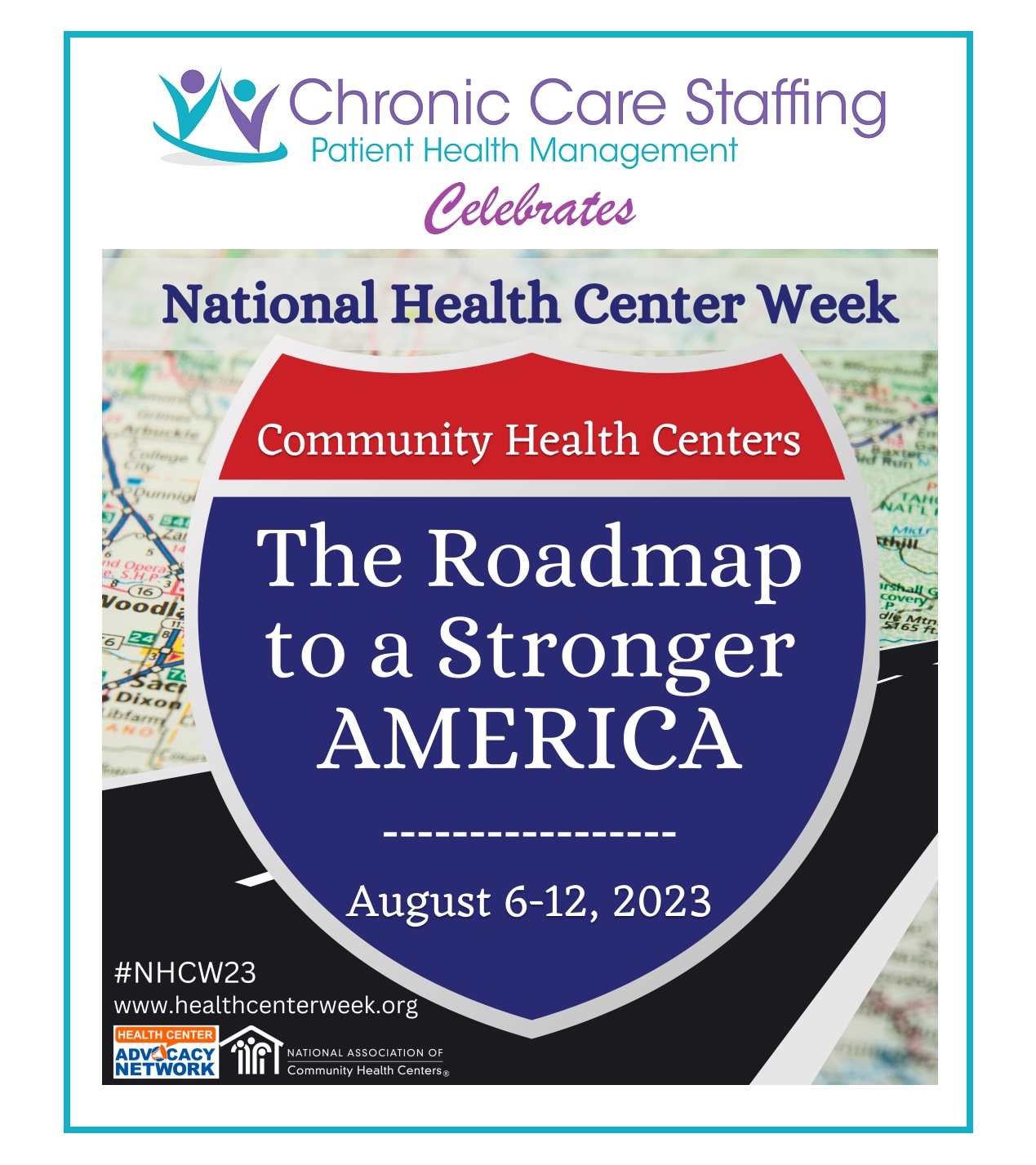 Chronic Care Staffing, a leading provider of chronic care management, behavioral health integration, and annual wellness visit services, celebrates National Health Center Week, August 6-12, 2023.
Celebrating the Health Center Mission
Community Health Centers (CHCs) offer a wide range of healthcare services, including primary care, preventive care, dental care, mental health care, and substance abuse treatment. They also provide social services, such as transportation, translation, and case management.
CHCs are an important part of the fabric of many communities. They provide jobs, economic development, and improved access to healthcare in traditionally underserved areas.
National Health Center Week is a time to celebrate the work of CHCs and to raise awareness of the importance of access to health care. It is also a time to call for renewed support for CHCs so that they can continue to provide high-quality, affordable health care to all.
The theme for NHCW 2023 is "CHCs: A Roadmap to a Stronger America." This theme highlights the essential role that CHCs play in providing access to health care for millions of Americans. The week will be segmented to highlight many aspects of CHCs and the patients they serve, including Public Healthcare in Housing, Healthcare for the Homeless, Healthcare for Agricultural Workers, Patient Appreciation, Stakeholder Appreciation, Staff Appreciation, and Healthcare for Children.
Improving Patient Care, Reducing Costs
According to the National Association of Community Health Centers, CHCs have grown from their inception in the 1960s to support the healthcare needs of thirty million Americans today. These varied needs include:
Providing access to health care for people who would otherwise be unable to afford it.
Offering comprehensive, preventive, and primary care services.
Bringing healthcare to medically underserved areas.
Serving a diverse patient population.
Fielding a comprehensive team of health care professionals, including doctors, nurses, dentists, and social workers.
CCS Offers Solutions for CHCs
Chronic Care Staffing is a corporate member of NACHC and is proud to partner with Federally Qualified Health Centers across the country.  We work collaboratively with our FQHC clients to develop virtual clinical programs designed to support patients in need while generating income that can be reinvested to elevate the quality of care.  We utilize resources such as PRAPARE screening to identify Social Determinants of Health and leverage local community resources to enhance access to healthcare.  Thank you to FQHC providers and staff across the country for the work you do to support community-based healthcare!
Once again, CCS wishes to recognize and celebrate America's Health Centers during their special week. Remember, if your health center needs chronic care management, behavioral health integration, or annual wellness visit services… or if you are a caregiver looking for your next opportunity, please contact CCS today!